The Global Coworking Unconference Conference
The Global Coworking Unconference Conference (GCUC) event is coming to Shanghai this year. Regardless of whether you took part in last year's event in Beijing or you missed it, this year's event is not to be missed!
Date
November 11th -14th, 2017
Location
800•Show, Shanghai
(No.800, Changde Road, Jing'an District, Shanghai, China)
GCUC pronunced "Juicy"
The Global Coworking Unconference Conference(GCUC) is pronounced "Juicy" and it's a big, juicy wave of awesomeness that's changing the face of work as we know it. We're coasting on a wave of accelerated serendipity, making the future of work happen in a whole new way. Founded in 2011 by Liz Elam, GCUC has become a major coworking conference worldwide.
GCUC first landed in China in December 2015 with its first annual summit taking place in Shanghai, before moving to the capital Beijing for the next event in September 2016. 2017's conference promises to bring all-new upgrades to the summit! Not only will the event bring together global leaders from the co-working space world to share, exchange and create ideas for the future of the industry, but it will also assemble key figures from the fast-growing sharing-economy at home and abroad. You will also be able to enjoy some of the hottest hip-hop music as well as wonderful debates.
▼ GCUC already covers the whole world; since 2008 more than 20 events have been held in more than 10 countries and regions.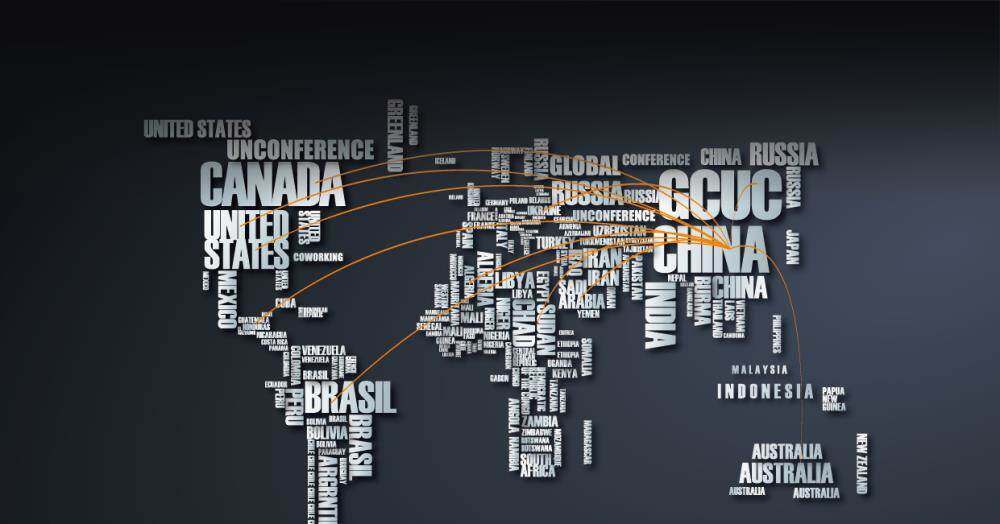 GCUC, founded in 2008 by Liz Elam in Austin, Texas, has been the world's largest coworking space industry conference series for eight years and was one of the such industry events globally. GCUC is pronounced 'Juicy', implying the rich and juicy era of new office concepts that are currently transforming our perceptions of traditional office styles.
2015 GCUC CHINA
GCUC 2015 was held from 4th to 5th December in Shanghai through P2. This event, marking the first time that GCUC had entered China, aimed to bring together domestic and international co-working space pioneers and leader to discuss the current and future state of the industry in-depth, exchange ideas on business philosophy. GCUC 2015 aimed to contribute to the creation of a friendly competitive environment, in order to better promote the sector in China as well as Asia on a higher level, and to better benefit entrepreneurs.
• 700 guests in attendance
• 50 VIPs from China and abroad participating
• 40 guests participating in the summit session
• 25 government agencies and partners supporting the summit
• 215 media organizations covering the event
• 15 organizations among the first batch of members for the Coworking Space Industry Alliance
▼ 2015 GCUC CHINA
2016 GCUC CHINA
Using the current state of development of the coworking industry as a basis, the conference placed a greater emphasis on 'shared synergies' and 'value innovations'. The event also covered more aspects of the industry compared to year before, and included discussions on real estate, construction, start-up incubators, creative industries parks, apartments, capital, design, furniture, business services and the media. GCUC 2016 also introduced a training camp concept for the first time.
• 1000 guests in attendance
• 120 VIPs from China and overseas participating
• 80 members took part in the training camp
• 60 guests took part in the summit session
• 42 government agencies and partners supporting the event
• 369 media organizations covering the event
• 21 organizations received awards
• 11 exhibitors on show
• 3 companies announced information on new products
▼ 2016 GCUC CHINA
2017 GCUC CHINA
This year's GCUC China comprises six main parts:
Visits to top-level domestic coworking spaces, incubator and creative technology park
Chinese and foreign lecturers work together to build an industry training camp
Conference (Nov 13. – 14.)

Unconference (Nov. 14)
Expert audience present spontaneous lectures and discussions, as well as themed workshop
Industry standards and industry annual report released (Nov.13)
Release of authoritative industry information and standards, analysis of industry data
Product exhibition (Nov. 13 – 14)
Cutting-edge products and services from domestic and foreign exhibitors on display, covering office and lifestyle
2017 Agenda
Nov.11th
13:00-17:00 Space Tour
First Stop: People Squared · Hero Center
Second Stop: Workingdom Plus · Jingpin

Third Stop: URwork · Ximalaya
Fourth Stop: naked HUB · Loushanguan Lu
Nov.12th
13:00-13:30 Check In

13:30-14:00 Experience exchange of space tour
14:00-14:10 Opening Speech
14:10-15:10 Industry: Analysis of Global Coworking Development
Speaker: Founder of Deskmag, Carsten Foertsch
15:10-15:20 Break
15:20-16:20 Design: IP is more
Speaker: Founder of Roarc Renew host designer, Robben Bai
16:20-16:30 Break
16:30-17:30 Technology: IT-Glory and Dream of Coworking
Speaker: Founder of Gewu Consulting, Han Xu
Nov.13th-14th
Conference & Unconference
2017 GCUC CHINA Ticket Notice
Five types of tickets available for 2017 GCUC CHINA:
A. Full Package
Includes: Space Tour (Group tour with full guide, Nov.11) + Camp(Nov.12) + Two-day Pass of Conference(Nov.13-14) + VIP dinner(Nov.13)
Price:RMB 3888 / USD 590
Limited to 100 tickets
B. Two-day Pass + Camp
Includes: Two-day Pass(Nov.13-14) + Camp(Nov.12)
Price:RMB2888 / USD 430
Limited to 80 tickets
C. Two-day Pass + VIP Dinner
Includes: Two-day Pass(Nov.13-14) + VIP dinner(Nov.13)
Price: RMB1988 / USD 300
Limited to 30 tickets
D. Two-day Pass + Space Tour
Includes: Two-day Pass(Nov.13-14) + Space Tour (Group tour with full guide, Nov.11)
Price: RMB1588 / USD 240
Limited to 100 tickets
E. Two-day Pass
Includes: Two-day Pass(Nov.13-14)
Price: RMB1288 / USD 195
Limited to 30 tickets
| | | | |
| --- | --- | --- | --- |
| 类型 | 结束时间 | 单价 | 选择数量 |
| Early Bird (Two-day pass of Conference(Nov.13-14)) | 2017-10-25 13:00 | $100 | |
| Two-day pass of Conference(Nov.13-14) | 2017-11-14 18:00 | $195 | |
| Two-day pass(Nov.13-14) + Space Tour (Group tour with full guide, Nov.11) | 2017-11-14 18:00 | $240 | |
| Full Package Includes: space tour+camp+two-day pass+VIP dinner | 2017-11-14 18:00 | $590 | |
| Camp(Nov.12) + Two-day pass(Nov.13-14) | 2017-11-14 18:00 | $430 | |
| Two-day pass(Nov.13-14) + VIP dinner(Nov.13) | 2017-11-14 18:00 | $300 | |
| | |
| --- | --- |
| 姓名: | * |
| 回复邮箱: | * |
| 手机: | |
| 标题: | * |
| 留言内容: | * |